The garden is closed for the rest of 2023. We hope to see you again from the end of may 2024.
now, 4-11, ready for picking*:
We don't have strawberries or cherries.
* Children till 4 are not allowed to pick. From 4 till 12 year: picking together with an adult.
In the garden there is pin-payment.
Our assortment
In the picking garden depending on the season you can choose various sustainably (without the use of chemical pesticides and with respect for humans, animals and the environment) cultivated cut flowers, edible flowers, tea herbs including 20 types of mint and small fruit such as red currants, picking chokeberries, apples, blueberries, thornless blackberries, grapes, (summer and autumn) raspberries, honeyberries, Japanese wineberries, kiwi berries, gooseberries, pears, plums, rhubarb and blackcurrants.
We no longer have strawberries in the picking garden. We don't have cherries.
The offer varies during the season. Above you can see what you can pick at the moment.
Giftcards
Gift cards from 5,00 up. A great gift to surprise someone for a birthday or as a thank you gift. The gift card is valid for picking flowers, fruit, herbal tea or a drink in the teagarden. The vouchers can be spent in parts.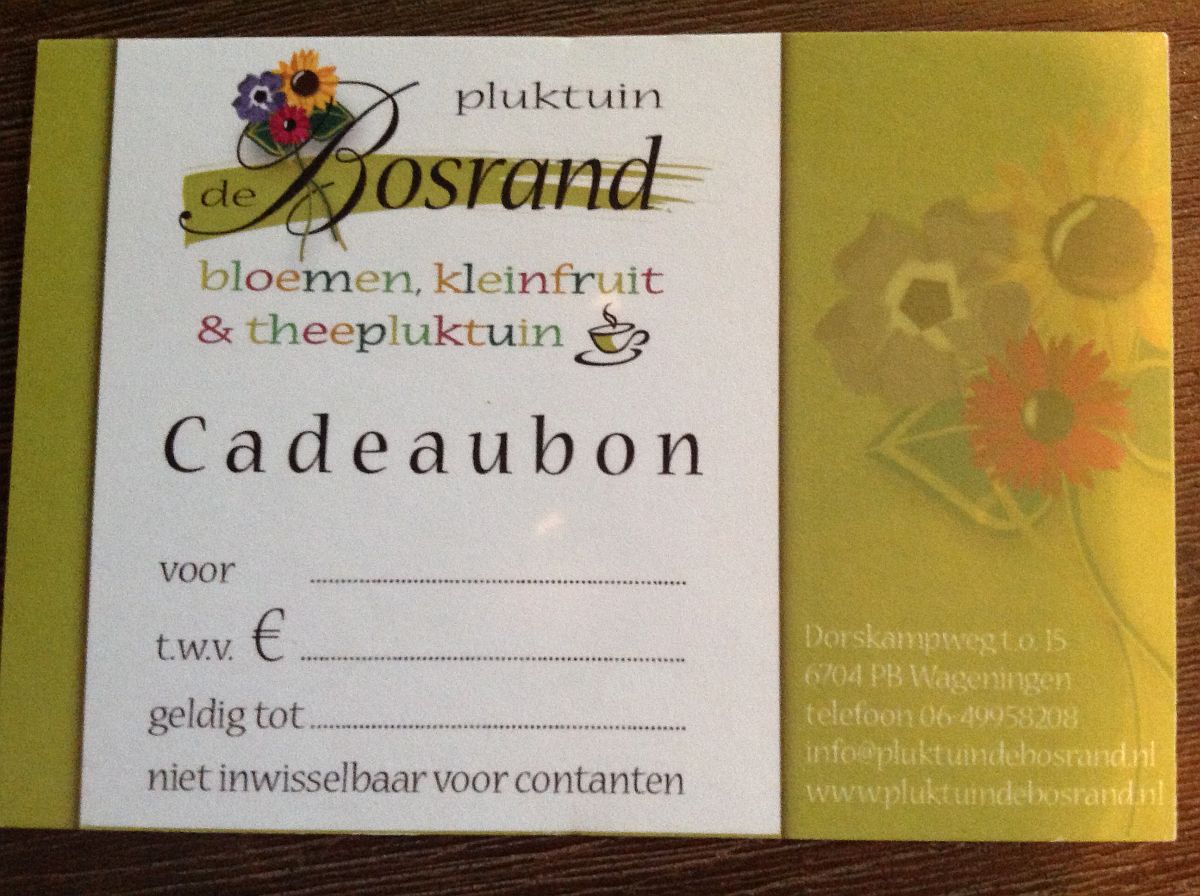 You can also buy a giftcard or flower arrangement through our webshop.

Extra Jam with over 71% fruit
"Extra Jam" with no less than 71% fruit.
There are various types of homemade jam for sale. "Extra jam" is in Holland a protected name. In order to be able to be called extra jam, the jam must contain at least 450 grams per kg of pulp (45%). The extra jam of the pluktuin contains no less than 71.4% of fruit. The extra jam pluktuin contains only naturlijke ingredients. During the season we make jams of the fruit of the garden. Depending on the season and the amount of fruit we have left after customers has picked, there is the extra jam for sale from red with black currants, gooseberries with rhubarb, rhubarb with orange, blackberry and red currant.
Block
uw eigen bloemen, fruit
of theekruiden oogsten